Custom PVC Patches For Your Customized Needs
Custom PVC patches are used to customize your clothing lines by having your brand name or logo molded using soft rubber material. People also call it rubber patch. There is another way you can customize your clothes and give them a different look and make them luxurious, setting your brand apart from the rest. You can do this by using rubber patch. The material PVC, polyvinyl chloride, is a soft and adaptable plastic that can be molded to any shapes and dyed to any colors or shades, making it one of the most commonly used synthetic materials around the world. Custom PVC patches on caps or hats look awesome. You can get them made as PVC Velcro patches. Fabricant patch PVC is another name of the same product.

APPEARANCE AND DESIGN
Unlike embroidered patches or printed patches, PVC patches project a true 3D look and that is why custom PVC badges are widely regarded as an alternative to the most common embroidered patches. PVC patches are made of a durable plastic and that give you the chance to use them in as many styles and colors as you want. Custom PVC badges also create a possibility for logo designers to concentrate on the details of the artwork, and then craft out detailed designs in either 2D or in 3D method. If you need to design some jackets for the Memorial Day and you want to show your affection for the country, you must get our custom PVC patches for this event. Sometimes, a logo picture needs to be modified for a good outcome of the PVC badge. We know how to design a logo for Custom PVC labels. PVC Velcro patches need a less difficult shape; the simpler, the better. Velcro is sewn the rubber patch using a sewing machine. If you have any questions regarding the artwork you have, please visit our services page for more details.
Difference between 2D VS 3D PVC Patches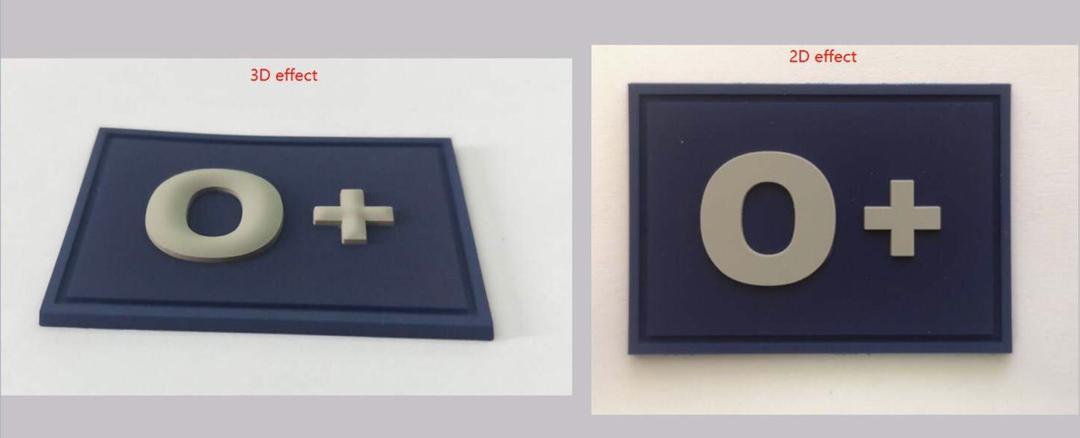 Backing Options for Custom PVC Badges
PVC Velcro Patches are our best seller. When it comes to the backing options available for our PVC patches, the most popular one is Velcro backing. This backing allows the patch to be easily added and removed from clothing. With Velcro backing, you can put the same PVC Velcro patches on different products. Because of the kind of material that is used in PVC patches, it is not advisable to use the iron on backing to prevent the soft plastic from melting away. PVC patches and PVC backing are two different things. You can put the PVC backing on embroidered patches. PVC backing, or plastic backing is a thin lamination film that is applied to support the patch. Please note that this type of patch is usually sown. Custom PVC labels also come with peel and stick backing. You can also sew on custom PVC labels. Learn more about the backing options available for all kind of patches.

Who uses Custom PVC Patches / Rubber Patch?
PVC patches are water-proof; so, they are used mostly by clothing manufacturers that produce clothing for water sports, marine engineering firms, fishing vessel staff, and other engaging and adventure sports.
The other users of PVC patches are advertising agencies, event planners, military units, police departments, girl scouts, boy scouts, fire departments, and so on. PVC patches can also be used as Velcro name patches and Velcro patches for backpacks. Besides woven labels, denim jeans manufacturers also use rubber patch to customize their products for their clients. T-shirts and polo shirts manufacturers employ this branding method too. PVC patches can be sewn to caps, shirts, bags, jackets, outdoor gear, baggage, and on many other products. Individuals use custom 2D or 3D PVC patches on their clothing. Children also love custom PVC patches.

Why Custom PVC Patches?
What sets PVC patches apart from both woven patches and custom embroidered patches? Why should you go for PVC patches?

PVC patches are more beautiful than embroidered patches, printed patches, and other similar products. PVC patches are more durable, they last longer than all other kinds of patches. Oftentimes they even outlast backpacks, caps, or uniforms to they are attached. Another advantage is the fact that they do not fade, and the colors used in the PVC patches withstand unlimited washes. The third advantage is the amazing 3D look they have. We make PVC patches in up to 12 colors.

Why Us?
We make all kinds of rubber patch, e.g. custom PVC patches, PVC Velcro patches, custom PVC badges, and custom PVC labels. All you need is to send you artwork for custom PVC patches, PVC Velcro patches, custom PVC badges, and custom PVC labels. Send us an e-mail or make a phone call and we will be more than happy to help you. Have we mentioned our pocket-friendly prices? Call us to discover!
CUSTOM 2D-3D PVC PATCHES
We make custom PVC Patches and Labels in 2d and 3d looks. Minimum order is 50 pcs and it will take around 2-3 weeks to deliver the pvc patches on your doorsteps.

2- Our first step involves designing the pvc patches from the artwork

3- After we complete the pvc file in designing software, we make the mold for pvc patches.

4- After approval of mold from our client then we go for production.

5- Once production is finihed, we pack the patches for delivery via DHL OR FEDEX
To get started, simply call us at 248-509-0411 or fill out our no-obligation quote form right here on this page. We eagerly forward to hearing from you.
Free Sample in 1-2 Days
Free Edits
Free Quotes
Free Shipment
Competitive Price
Simple Design Process
Plenty of Patch Options
Available in all Categories
24 Hours Custom Support
Premium Quality Patches
Fastest turnaround
Live Chat Support
---
STEP 1: SELECT A PATCH STYLE
Select a style from our extensive collection. We offer one that is ideal for every need and every budget!
---
STEP 2: COMPLETE THE QUOTE FORM
We'll answer quickly with a sample of your patch design after you fill out our quote form.
---
STEP 3: REVIEW THE ART PROOF
You can go over patch trials again and again until it's exactly what you need. Revisions and artwork are usually free!
---
STEP 4: VERIFY YOUR ORDER
Confirm your order once you're satisfied with your design. Our FREE shipping gets your patches to you quickly, anywhere in the United States!
With Every Order You Will Get:
Free

Artwork & Design

Free

Revisions

Free

Patch Setup

Free

Shipping

Free

Free Iron-On Backing