---
STEP 1: SELECT A PATCH STYLE
Select a style from our extensive collection. We offer one that is ideal for every need and every budget!
---
STEP 2: COMPLETE THE QUOTE FORM
We'll answer quickly with a sample of your patch design after you fill out our quote form.
---
STEP 3: REVIEW THE ART PROOF
You can go over patch trials again and again until it's exactly what you need. Revisions and artwork are usually free!
---
STEP 4: VERIFY YOUR ORDER
Confirm your order once you're satisfied with your design. Our FREE shipping gets your patches to you quickly, anywhere in the United States!
With Every Order You Will Get:
Free

Artwork & Design

Free

Revisions

Free

Patch Setup

Free

Shipping

Free

Free Iron-On Backing
Patrol Your Beat in Style
Custom police patches benefit uniformed officers at all levels, from beat police to SWAT team members. These police uniform patches are frequently the right component to tie a uniform together, and they're also a great way to show your team's solidarity.
Our experts create patches for decorative, weaving, dye-sublimated, and compound applications using amazing materials. To make your design unique, you can make it nearly any length and shape. We are always available to create fantastic and long-lasting patches for you and your team.

LET'S GET THIS PART STARTED
● Design & Artwork for Free
● Patches Setup Is Free
● Different Thread Colors With easy Shipping

Badge Patches that Protect the Shield
There are a few important considerations to keep in mind while designing a bespoke police patch. These patches are typically worn on the shoulders of your precinct's uniformed officers. What do you want them to say about your officers, and what are some effective ways to get that message across? Fortunately, there is a historical record to pull layout ideas from, for anyone searching for a conventional and clean-cut style to their police patches.

YOUR TEAM WILL BE PROUD OF YOUR CUSTOM POLICE PATCHES!
The majority of police vest patches tend to follow the same common layout cues. These police badge patches, which are often fashioned like shields, feature the country seal and the call of the police branch in question. Colors and the direction of the textual information alter from department to department, but the overall appearance of the police patches remains consistent.
Your team's image should convey a sense of accomplishment and fulfilment, as well as represent who you are as a unit.
Working with some of the best designers in the industry, we have the skills and passion to produce the perfect personalized hockey captain patch, jersey patch or others.
Our quality Defines the worth:
While the thread is used to form a layout on our woven and embroidered police patches, our dye sublimated patches are manufactured by dying distinct molecules of a patch substrate to achieve a certain effect. PVC police patches, which are made of sturdy, weather-resistant, and bendy plastic that resembles rubber, are the most current trend. All of our custom police patches are available with your choice of backing, such as sew-on, Velcro, or sew on, which is the most popular.
Whatever type of patch you choose Joliet police patch or state police patch, we understand you want it to be high-quality and fade resistant. Only the best materials are used to make our police patches at MegaPatches. With over a hundred thread and twill colors to choose from, as well as a variety of sizes and styles, we can help you design custom police Velcro patches that will look excellent on any law enforcement outfit, including police, safety, Sheriff, and SWAT.
Is It Time to Replace Your Police Patch's Design?
We can either reproduce your current police patch layout or assist you to modernize it at MegaPatches. Switching from embroidered patches to PVC patches will give your uniforms a more modern look and feel. Do you want to change the elements in your patch? Or perhaps you'd like to switch up the badge's shape? We can assist you with all of this and more! If you want to go with something a little more edgy, we also have police morale patches.
Get Highly Customized Police Patches for sale: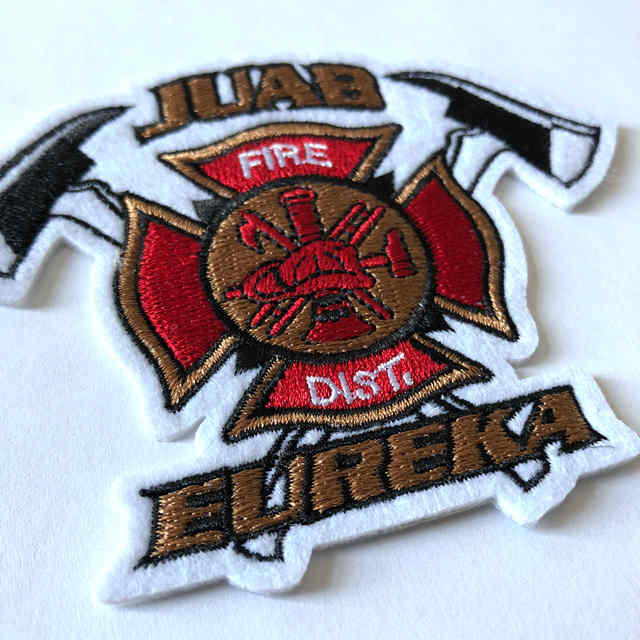 MegaPatches has everything you need to customize your police embroidered patches exactly how you want them. We provide a choice of patch sizes, as well as a vast range of thread colors and patch backings, ensuring that your patches turn out exactly how you planned. Check and visit our website for some fresh ideas on how to make your patches even more unique.
Our police patch designers provide you with entire control over the length, form, colorations, design, and backing type of your embroidered patches. We can tailor your patches to meet your exact specifications. Our talented artists will be delighted to assist you in creating patches that are appropriate for both you and your workplace.


NOW, NO MATTER WHAT YOUR BUDGET IS, YOU CAN GET CUSTOM POLICE PATCHES!
● Revisions to your artwork are completely free.
● United States Shipping is completely free.
We will not be undersold in terms of price, so you may obtain fantastic bespoke patches regardless of the size of your budget!

ON MOST ORDERS, THERE ARE NO SETUP FEES
WE ARE PROUD TO OFFER THE BEST VALUE IN THE WORLD!
On all police patches, we provide free art and design, free revisions, and free shipping to anywhere in the United States, providing you with the most value for your money. We will not have any hidden fees or surcharges, therefore the price you see on our website is the final amount you will pay.

Patches Delivery on your DoorStep!
Every Custom Patch is backed by our Unparalleled Customer Service and a 100% Quality Guarantee.
To get started, all you have to do is call us toll-free at 248-509-0411, email us at [email protected] or fill out our no-obligation quote form right here on this page. We eagerly await your response.
Alternatively, if you're ready to acquire your Free Quote, visit our Free Quote Page.